Last Saturday, September 11, Barbara and I went to Southeast Arizona to look for the Plain-capped Starthroat (a hummingbird) that had been reported to be present regularly for the past several days at the Paton's feeders in Patagonia. We arrived about 4:00 p.m. and no one else was present. Plenty of hummingbirds, including Black-chinned and Violet-crowned, were buzzing about, busily sipping at the dozen or so hummingbird feeders in the back yard.
Black-chinned Hummingbird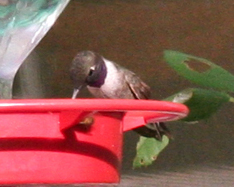 Violet-crowned Hummingbird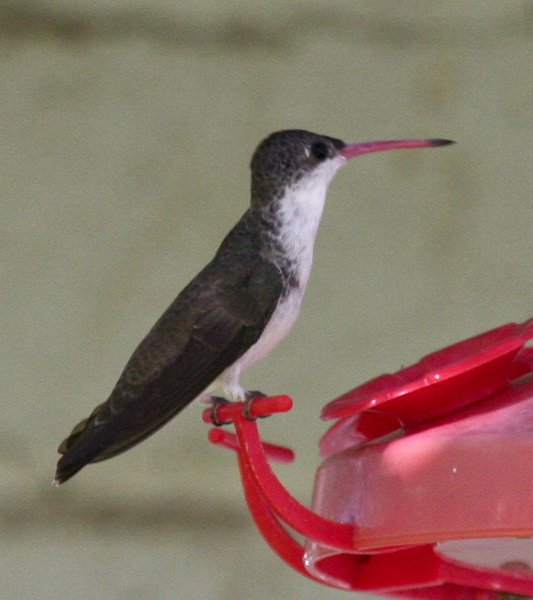 Mike Marsden, who has assumed a caretaker role at the Paton home, came out to join us, and Al Hodges of Maine also came by. Al was with me on a Wings trip a couple of years ago and it was a pleasant surprise to get together again. As we were visiting, the Plain-capped Starthroat made a brief appearance, and then disappeared for the rest of the evening. Barbara was able to get a couple of quick shots showing the prominent white feathers which provide a reliable field mark for identification of the Starthroat. The Starthroat is quite rare in North America. The American Birding Association rates it a 4 on its Checklist, just one shy of the really rare 5s.
Starthroat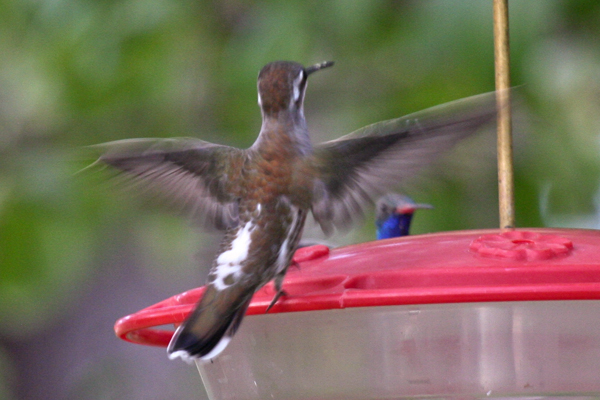 I mentioned that one of my nemesis birds has been the Lucifer Hummingbird, (only a 2 on the ABA Difficulty Checklist) which I have searched for in Texas a couple of times in prior years, with no success. Mike said it should be no problem finding them at Mary Jo's. Mary Jo is the host of Ash Canyon Bed & Breakfast south of Hereford, AZ. We revised our plan for Sunday and drove to Sierra Vista to find a hotel for the evening. Sunday morning we drove south to Mary Jo's where we arrived early in the morning to be greeted by a flock of very large and very tame wild turkeys strolling through her yard. We watched the furious hummingbird activity at her feeders for a while. Mary Jo came out and sat with us, and it was not long before both male and female Lucifer Hummingbirds appeared.
Male Lucifer Hummingbird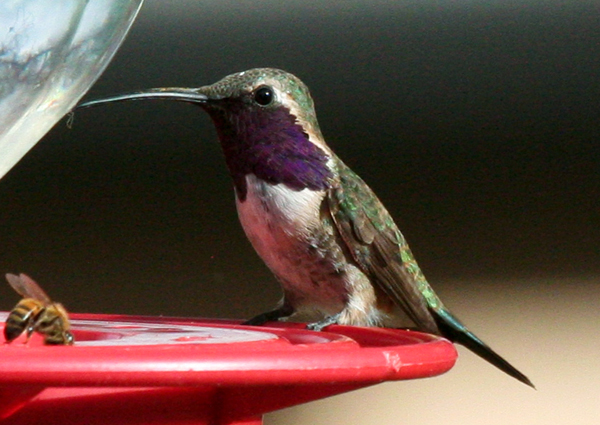 Female Lucifer Hummingbird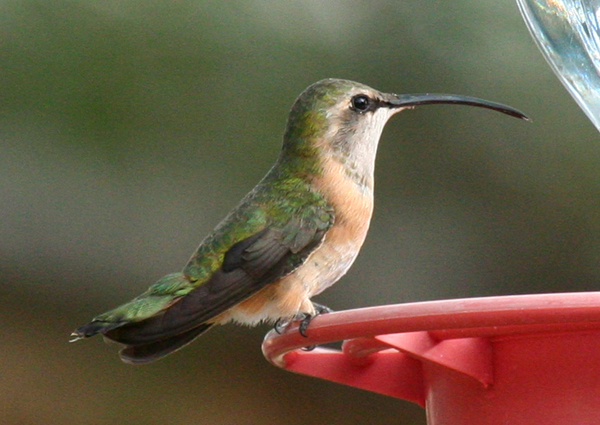 Yeah!!! Two North American life birds (Nos. 688 and 689) for the trip when I had only expected one. We saw perhaps a half-dozen of them during the morning. She tells us that they have established a significant breeding territory in the easter Huachucas over the past 10 years and that there are about 150 pairs now in the area.
Broad-tailed, Magnificent and beautiful Broad-billed hummingbirds passed through the feeder setup, along with innumerable Anna's.
Broad-billed Hummingbird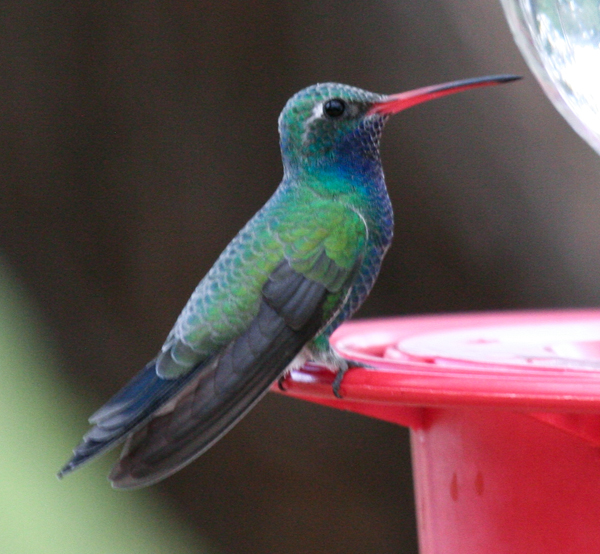 Mary Jo was leaving to spend the morning hummingbirding at a neighboring B&B, Beatty's in Miller Canyon. Beatty's is a bit higher and has some species of hummingbirds that do not show up at Mary Jo's. After we had absorbed as much of the hummingbird activity as we cared for at Mary Jo's (we were hoping for the appearance of a Calliope Hummingbird, which had been seen there once or twice on previous days but not this day), we followed her directions to Beatty's and were welcomed by the Beatty family. We spent an hour or so in their lovely hummingbird garden where we were able to view several Blue-throated Hummingbirds. A highlight was a nest with 2 young Blue-throated Hummingbirds nearly ready to fledge.
Blue-throated Hummingbirds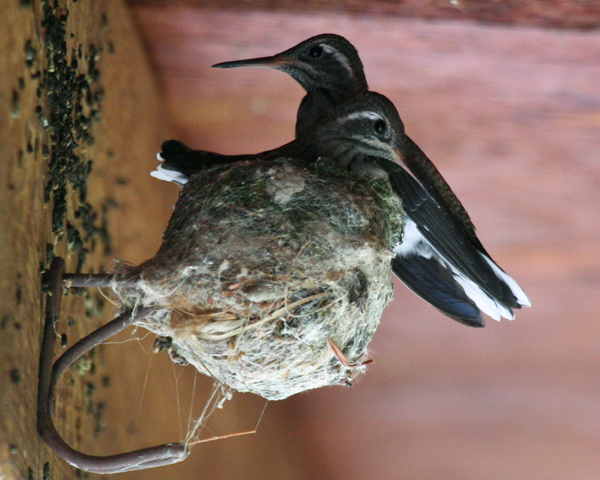 No Berryline Hummingbirds made their appearance, so I will have to wait for a future trip to add that one to my life list. They had been regular at Beatty's but it is late in the year and they seem to have moved south. We did enjoy seeing several Rufous and Anna's.
Rufous Hummingbird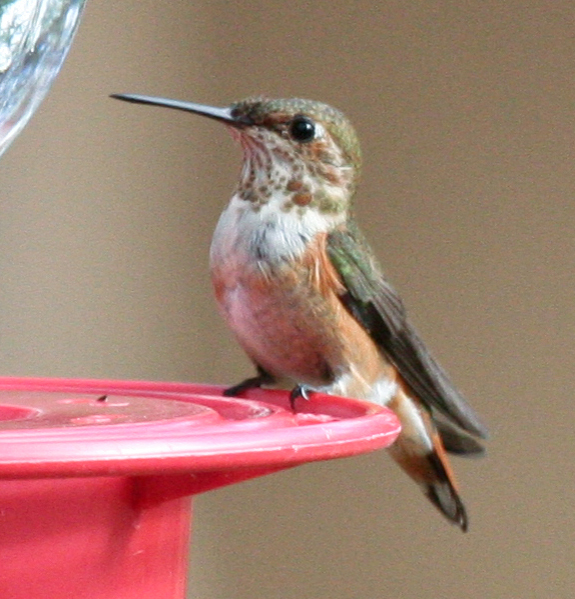 Anna's Hummingbird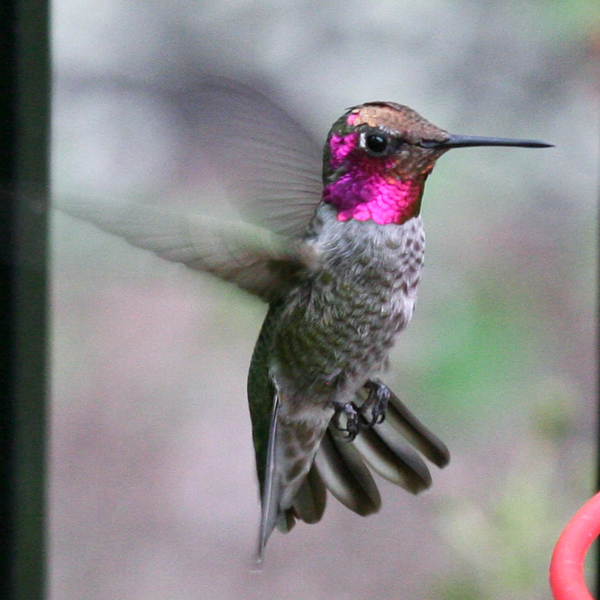 That afternoon we drove to the San Pedro House east of Sierra Vista and hiked along the San Pedro River. I think I was stung by a really potent insect during the walk and had some uncomfortable chest congestion for the remainder of the day. We were able to spot a couple of good birds on that walk, including a Blue Grosbeak and a Vermillion Flycatcher.