I have been on a mission to see at least one species (currently 10,721 species are listed in Clements Birds of the World) in each of the bird families (currently 248 families listed in Clements). I am at 87.5% (217) of the families. A few months ago I went to the Dominican Republic and Puerto Rico, where I added 6 families. After that trip I had 3 unseen families that can be found in the western hemisphere: they are (1) Sharpbill, the (then) only species in the family Oxyruncidae, best found in eastern Brazil; (2) Sapayoa, the only species in the family Sapayoadae, disjunctly found in various central and northern South American jungle areas; and (3) Cuban Warblers (with 2 species) in the Teretristidae family, found only in Cuba.
About a year ago Adam and I went to Ecuador, where one of my main targets was the Sapayoa (# 2 above). Unfortunately, terrorist activities along the Columbia border made it too dangerous to enter the area where the Sapayoa could be found, so it was eliminated from our itinerary.
Focusing my search now on the Sharpbill, from September 16 through 18 of this year we went to the eastern rain forest of Brazil. After arrangements were in place, but before we went, the Cornell Lab of Ornithology published its annual update of the Clements List of Birds of the World, and the Sharpbill suddenly acquired 5 siblings, all transferred from the Flycatcher (Tyrannidae) family. Three of those flycatchers I have seen. DNA analysis showed that they are more closely related to the Sharpbill. And so, in blissful ignorance, I had Sharpbill added to my family list. But, arrangements were in place and we wanted to see eastern Brazil and Rio, so we went anyway.
We arrived in Rio on the morning of the 16th where we were met by the Serra Dos Tucanos Birding Tours driver and transported to Itororo Lodge. Along the way we picked up Andy Foster, the sole proprietor of Serra dos Tucanos, and the bird guide I had selected for the trip. Andy, in addition to conducting birding tours throughout Brazil, coordinates the birding for folks who stay at the Itororo Lodge, which is located a few miles outside Nova Friburgo in the Serra do Mar Mountains.
Neither Adam nor I have good photographic equipment or skills, but Andy does, and so I made a deal with him that he should feel free to indulge his passion for wildlife photography and take as many pictures as he wished on our outings, if he would allow me to use some of them in this blog. Below are most of the pictures he selected from the many more that he took.
Although booked as a 2-day tour, it turned into more, including the remainder of the day of arrival and the morning of the day of departure. We saw about 140 species, of which 68 were new on my life list.
Hummingbirds were plentiful, with 9 species represented. We saw 6 endemics (Scale-throated Hermits, Sombre Hummingbirds, Black Jacobins, Violet-crowned Woodnymphs, White-throated Hummingbirds and Brazilian Rubies) most of them in large numbers at the feeders around the Lodge. Other Hummingbirds seen on the trip were Planalto Hermits, White-vented Violet-ear and Swallow-tailed Hummingbirds. Here are two of the endemics:
Violet-capped Woodnymph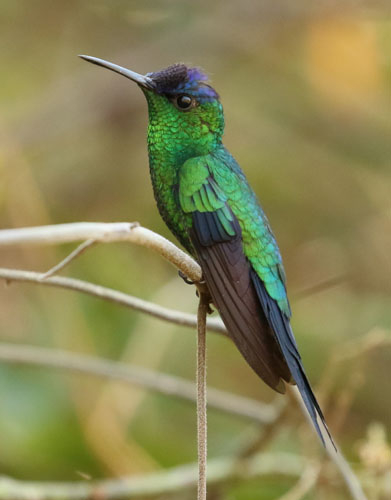 White-throated Hummingbird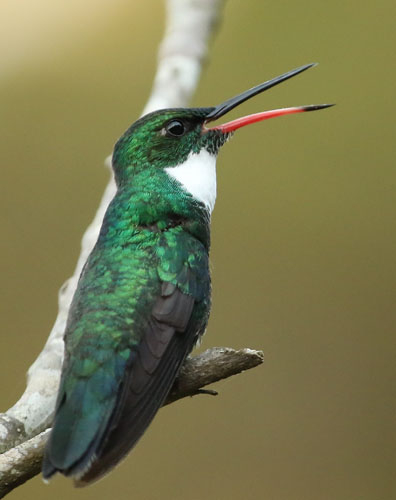 Tanager species outnumbered the Hummingbirds, with 15 species. Among the endemic species well seen at the Lodge were Ruby-crowned, Azure Shouldered, Golden-chevroned, Brassy-breasted, and Gilt-edged Tanagers.
Brassy-breasted Tanager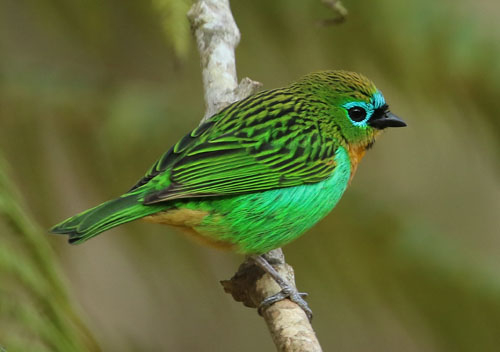 Golden-chevroned Tanager
We also saw Magpie, Chestnut-headed, Black-goggled, Sayaca, Fawn-breasted, Green-headed, Burnished-buff, and Rufous-headed Tanagers, and additional Tanager species, Blue Dacnis and Green Honecreepers.
Four Parrot species made appearances: Blue-winged Macaws, White-eyed Parakeets, Maroon-bellied Parakeets and Plain Parakeets. Bare-throated Bellbirds frustrated Adam with their frequent calls, and infrequent sightings, until, finally, one showed well.
Bare-throated Bellbird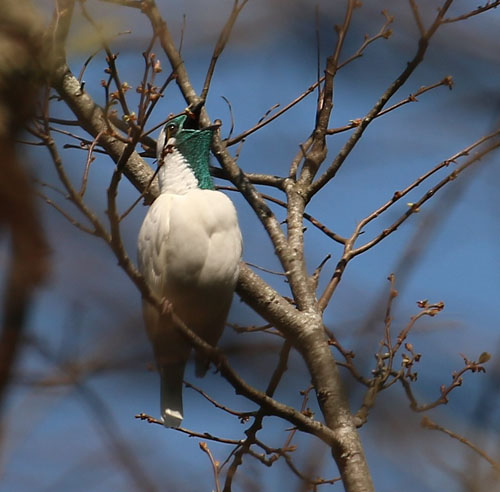 The lovely little Manakins (Blue, Pin-tailed and White-bearded) were a delight, venturing very close as we quietly walked the forest trails.
Blue Manakin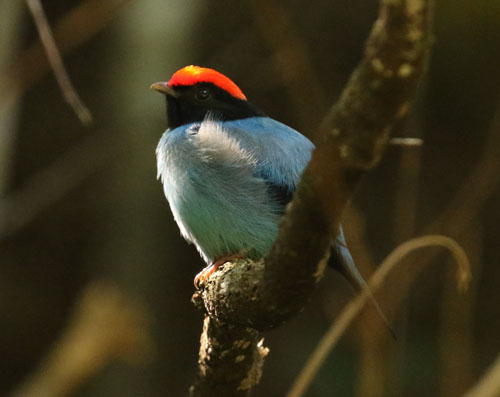 Pin-tailed Manakin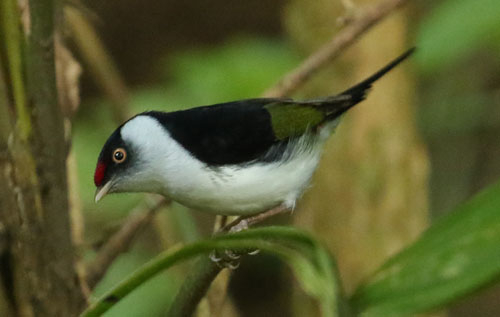 The Sharpbill was a challenge to see, but with the Andy's skill and Adam's sharp eyes, we were finally able to find one perched in view long enough for a good scope view, and a picture. Mission accomplished.
Sharpbill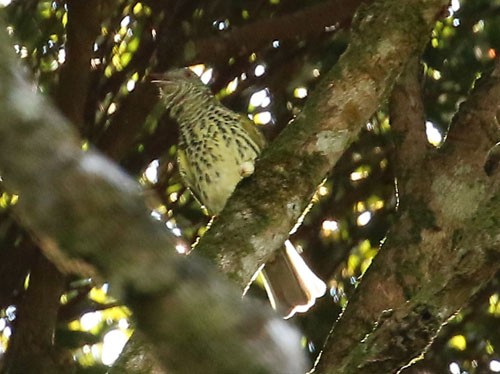 The second priority for me was to see at least one of the two eastern Brazil Gnateaters. We were fortunate to find both, Rufous and Black-cheeked.
Black-cheeked Gnateater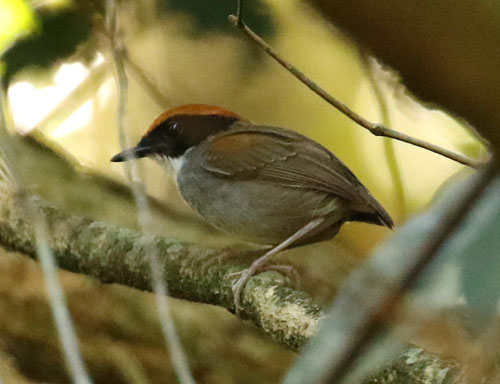 The Ovenbird family provided a great number of species, at least 20. Less colorful (brown is prominent) than the Tanagers and some others, they proved a challenge to my spotting skills in the typically forested domain they inhabit. Here are a couple of the typical family members from the forest:
Streaked Xenops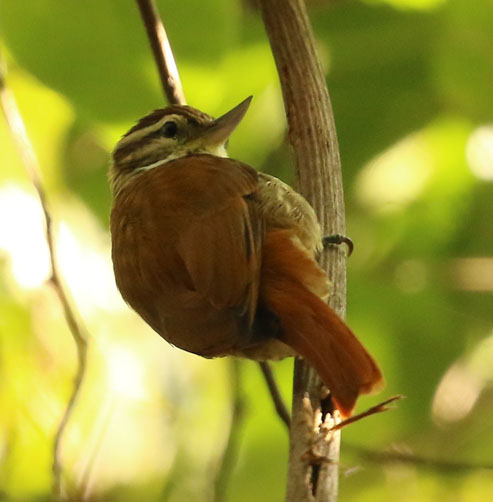 White-collared Foliage Gleaner
On day 2 we explored more open country with agriculture operations, often cattle ranching, in the valleys. There we found a couple more of the Ovenbird family, Firewood Gatherers, (I just like the name), and Band-tailed Horneros, pictured below.
Band-tailed Hornero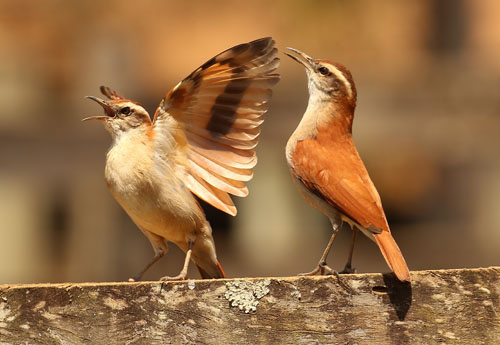 The Flycatcher family was strongly represented, with over 20 species identified, some in the forest and some in the open habitat of Day 2. Most of the Flycatcher species were not new to me, but here is one that was:
Streamer-tailed Tyrant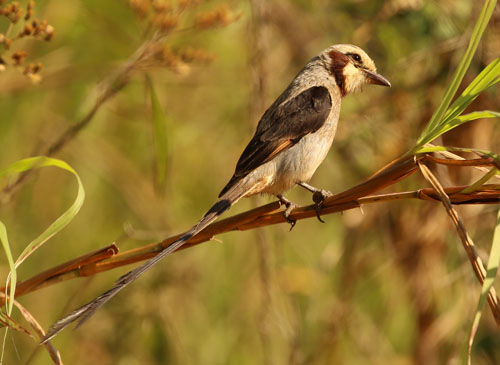 Here are several more pictures of a few of the birds we saw:
White-breasted Antshrike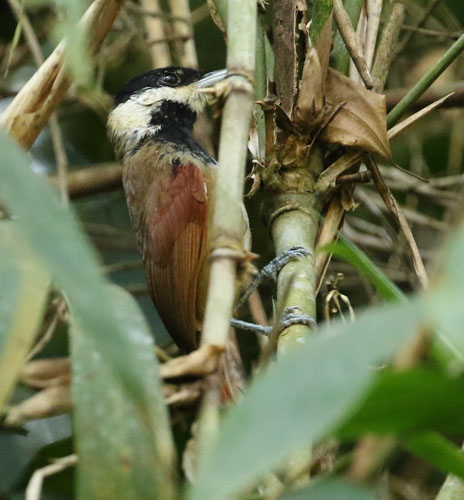 Surucura Trogon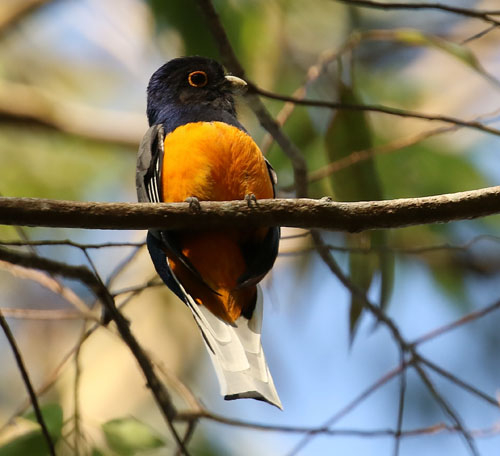 Gray-eyed Greenlet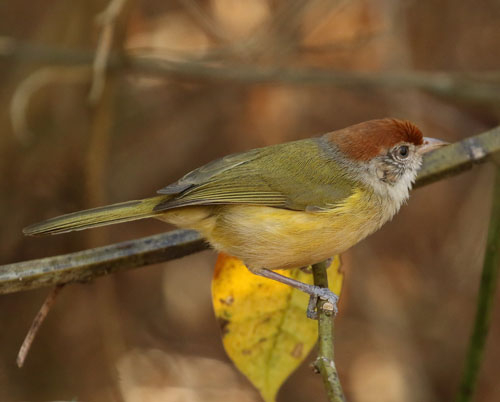 Savannah Hawk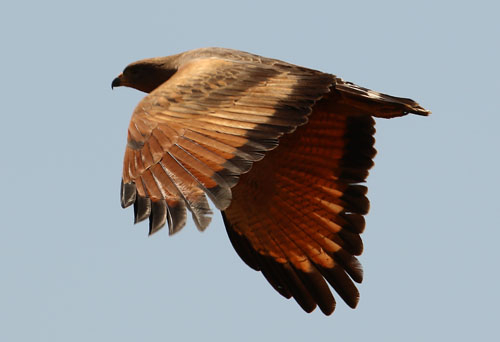 Spot-billed Toucanet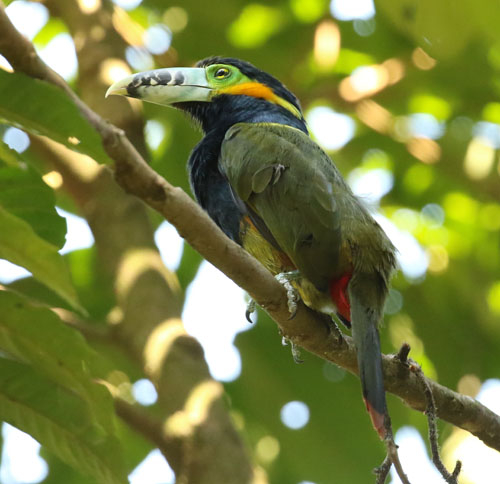 Itororo Lodge, a couple of hours drive north of Rio, offers cool, mountain weather, comfortable lodging, privacy, colorful birds galore both for viewing and for photographing, intimacy (12 guest maximum), good food and beverage service and gracious hosts (Reiner and Bettina). Their father, one of the leading Orchid scientists of Brazil, conceived the lodge and its surroundings to grow and study Orchids on site. To top it off, the Lodge partners with able and convivial professional bird guide Andy Foster (dba Serra dos Tucanos Birding Tours) who offers private bird guide services coordinated with the Lodge. For birders, the combination is hard to beat. For others, it is also hard to find such a quiet and comfortable lodge in natural surroundings. Our 3 day stay (September 16-18) was great and we highly recommend both Itororo and Serra dos Tucanos.
Prior to the trip Andy had recommended we engage Eugenio Souza as our guide for a couple of days of sightseeing in Rio de Janeiro. Eugenio was otherwise engaged on a tour out of the city, but he arranged to have Paulo Giffoni substitute for him. Paulo met us at our Hotel Atlantis Copacabana at 7:30 a.m. on the 20th, the morning after our return to Rio. We quickly embarked on a remarkable tour, beginning with a tram ride up to a close encounter with the great statue of Christ the Redeemer, and a view from there to Sugarloaf Mountain.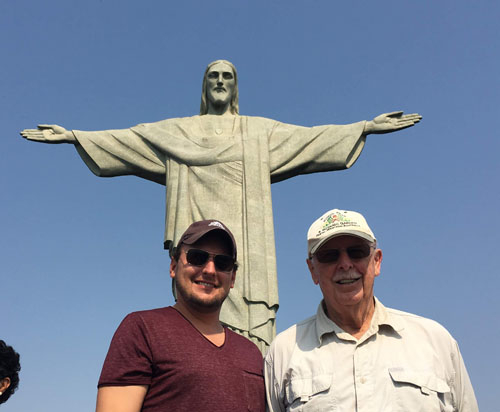 A visit to the Santa Theresa area concluded with a walk down the 215 steps of the Escadoria Selaron.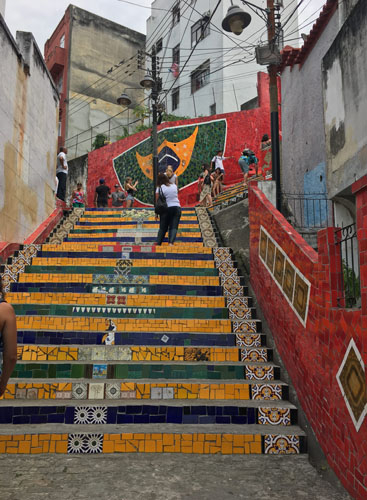 Jorge Selaron was a nonconformist artist whose world-wide tile collection decorates the (for us) descent. Many of the tiles were painted by Selaron, all depicting the same pregnant African woman, a choice never explained by Selaron. Tiles for the stairs were donated from over 60 countries around the world. Selaron, born in 1947, was found dead on the steps about 20 years ago, again with no explanation.
The Cathedral of Saint Sebastian looks drab from the outside, like a huge copy of the Mayan ruins at Chichinitza,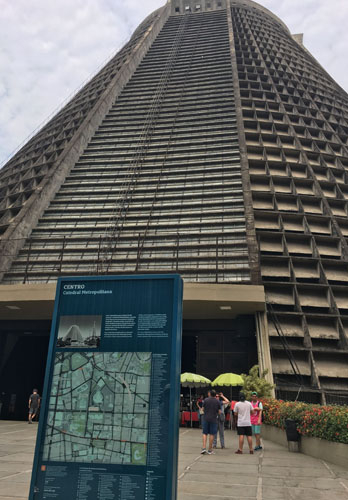 but space, beauty, grand heights and glass grace the interior.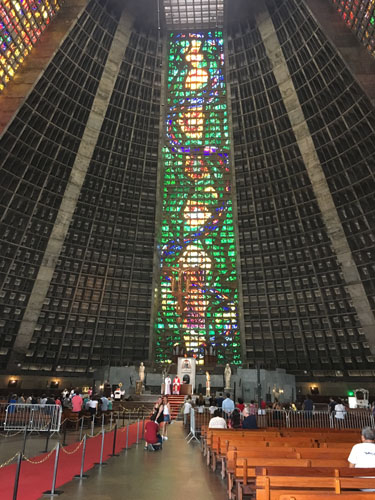 Mass was in process at the time of our tour, with extremely loud music and not many worshipers. [The little wooden confessional seemed de minimus (barely room for 2) and out of place].
More impressive, at least for me, was the Benedictine church on Montserrat, completed in 1641, with its Baroque interior.
Paulo's expressed appreciation of the Gregorian Chant by the monks of the monastery, customary on Sunday mornings, made me wish that I could have heard it. Gregorian Chant is one of the music genres to which I have a sentimental attachment, dating from my college choir days at the Jesuit church at Creighton University in Omaha.
We visited the Sambadrome, a 570 meter long parade area completed in 1983 to accommodate the largest Carnival celebration in the world, repeated each year before lent. Not much was going on, but there were a few folks with costumes, presumably typical of the Carnival, and offering a photographic opportunity, which we failed to realize. They claim over 2,000,000 people come for Carnival, which lasts a week. Paulo's line: People come to Sao Paulo for business; they come to Rio for fun.
The second day dawned wet and cloudy, foreclosing our planned visit to the obscured Sugarloaf. We improvised with drives through the city, along the beaches, in the parks, around (not in) the favelas (mountain-side neighborhoods, each of up to 100,000 people living in self-constructed, densely packed and now stacked up to 5 floors to accommodate the multiple generations, on unowned land). Some favelas are controlled by drug lords; and some by militia, who thrive on protection (from drug lords) money extorted from residents.
We enjoyed a great Brazilian barbecue of a very large hunk of beef at Paulo's favorite neighborhood café and then toured the Botanical gardens. I was worn out and soaked in sweat by the time we finished the garden tour, and ready to get to the airport for our late flight home.